Met de Infor Business Analytics (BIRST) maakt u snel dashboards en rapporten en heeft u direct toegang tot alle belangrijke gegevens op elk device. En u kunt de gegevens direct delen met collega's. Onze BI consultants hebben jarenlange ervaring met Infor en BI. Zij geven u graag advies én bieden de service om de gewenste BI oplossing in uw organisatie te implementeren.
Gebruiksvriendelijke analyse & management rapportage binnen CloudSuite (LN)
Infor Business Analytics op basis ban Birst® is een softwareprogramma voor Business Intelligence (BI) en zakelijke analyse in de cloud. Met de oplossing krijgen organisaties inzicht in complexe processen en kunnen ze deze sneller optimaliseren dan bij traditionele oplossingen. Birst is gebouwd met gepatenteerde technologieën voor automatisering en automatisch leren. Dankzij zijn 'BI in een netwerk'-benadering staan teams en applicaties in de hele onderneming met elkaar in verbinding via een vertrouwd netwerk van analyses en inzichten. U krijgt zo een compleet beeld van uw bedrijf en neemt keer op keer slimmere beslissingen. Met deze unieke aanpak vergroten toonaangevende internationale bedrijven hun winstgevendheid, verlagen ze hun kosten, verhogen ze de inkomsten en veranderen ze hoe ze zakendoen. En dat vaak binnen 90 dagen of minder.
Voorbeeld van een Infor BI dashboard op verschillende devices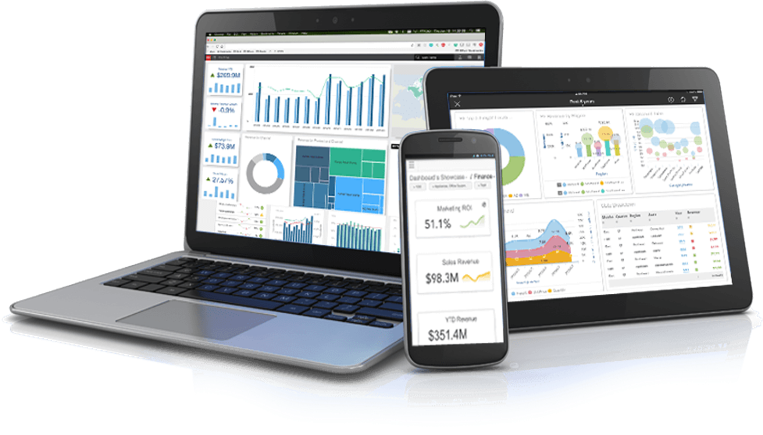 Houdt u net als wij ook van snel schakelen en korte lijnen? Neem dan gerust voor een vrijblijvend advies direct contact op met Marcel Croonen via 06 – 149 093 76 of bel met Korade op 0318 – 495 360.
Meer weten? Of een demo aanvragen?