HIDOX Formdesigner is de perfecte oplossing voor vormgeving, distributie en archivering van uw Infor / Baan documenten.
Elektronisch factureren (UBL) direct vanuit Infor LN / Baan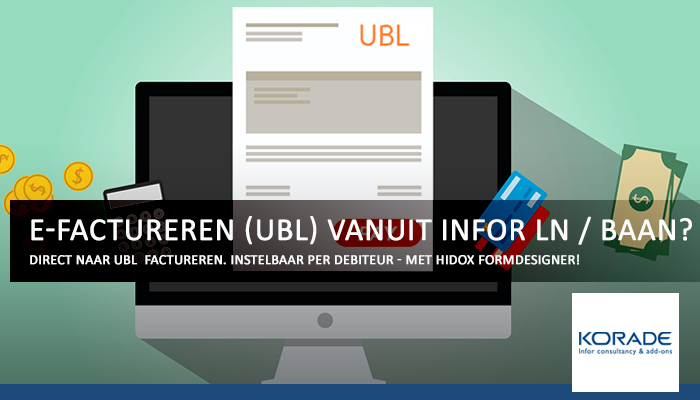 Met HIDOX Formdesigner bent u klaar voor e-factureren in PDF maar ook in UBL formaat. Per debiteur kunt u instellen of er in PDF of UBL formaat gefactureerd wordt.
UBL (universal Business Language) is het standaard formaat voor elektronisch factureren. Het is een XML bestand die speciaal is uitgedacht voor facturen.
De Rijksoverheid heeft gezorgd dat al per 1 januari 2017 de voorzieningen gereed waren om e-facturen te kunnen ontvangen en verwerken. Per 18 april 2019 zijn ook de decentrale overheden verplicht om UBL facturen te kunnen ontvangen en verwerken.
Met HiDOX genereert u UBL facturen direct uit uw Infor LN of Baan pakket.
Uw winst door de inzet van HIDOX Formdesigner in combinatie met Infor ERP LN / Baan
Versterk uw merk en imago: Met HIDOX FormDesigner VDP (variabele destination printing) realiseren wij documenten die conform uw huisstijl zijn. Logo?s, barcode, afbeeldingen of handtekening. Het is allemaal mogelijk.
Verbeter uw efficiëntie: In slechts één uur is HiDOX FormDesigner geïnstalleerd en is het mogelijk om uw documenten te printen, faxen e-mailen en/of te archiveren.
Versterk uw kwaliteit en presentatie: U ontwerpt op een eenvoudige efficiënte wijze templates voor uw documenten. U verstuurt uw documenten in PDF, MS Word, Excel, XML of HTML direct uit uw Infor / Baan systeem in alle talen. Tevens kunt u de documenten direct verwerken in uw Document Management System (DMS) of direct naar Microsoft SharePoint.
Verminder uw kosten: E-facturatie, e-mail, e-fax zijn niet meer weg te denken en besparen u geld doordat briefpapier en verzendkosten vervallen.
Versterk uw document flexibiliteit: Met FormDesigner VDP kunt u met behulp van één venster uw documenten bekijken en met één druk op de knop tegelijk printen, faxen, e-mailen en archiveren. Dat bespaart u tijd en geld.
Bekijk de mogelijkheden van HiDOX Formdesigner
FormDesigner is eenvoudig in gebruik en wordt in 1 dag operationeel gebracht inclusief een halve dag training. Het pakket is volledig geintegreed met uw bestaande Infor / Baan omgeving en logica.
Wilt u een vrijblijvende demo of meer informatie over HiDOX FormDesigner?
Wilt u nader kennismaken met de voordelen van HiDOX FormDesigner? Laat dan hier uw gegevens achter. Wij verzorgen graag een kosteloze demo en prijsopgave!
Houdt u net als wij ook van snel schakelen en korte lijnen? Neem dan gerust voor een vrijblijvend advies direct contact op met Marcel Croonen via 06 – 149 093 76 of bel met Korade op 0318 – 495 360.
Meer weten? Of een demo aanvragen?