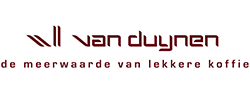 Voor professionele koffieautomaten gaat u naar Van Duijnen Koffie in Almere al meer dan 60 jaar landelijk specialist in professionele koffieautomaten en de beste koffie- en theeproducten. En niet voor niets zijn zij DE dealer van Nescafé.
Van Duijnen is al jaren een trouwe klant van Infor en Korade en gebruikt de Infor BaanIV software breed in de organisatie. Omdat Van Duijnen een service organisatie is wil men ook haar klanten optimaal bedienen met een webshop voor het bestellen van koffiebonen, bekers, etc. Van Duijnen heeft ervoor gekozen om de Magento webshop te implementeren en deze samen met Korade te koppelen aan de Infor BaanIV software.
De Magento webshop is een uitgebreid, professioneel open-source e-commerce platform dat volledige schaalbaar en brede flexibiliteit biedt. Het aanpassen van het design, de content en functionaliteit past helemaal in de eisen van de hedendaagse online winkel. Het is DE open source webshop software en vormt hét antwoord op uiteenlopende vraagstukken van de online ondernemer. Reeds duizenden klanten gebruiken deze oplossing hierbij kan je denken aan de bekende namen zoals o.a. Bjorn Borg, kleding merk Gant en Montblanc.
Magento biedt namelijk naast webshop software ook bewezen koppelingen met (bestaande) voorraadbeheer-, boekhoud- en ERP-systemen. De enorme keuze uit een groot aantal standaarden qua 'skin' (uiterlijk website) maakt het mogelijk om met minimale inspanningen een fundament neer te zetten.
Mogelijke Magento oplossingen:
Voorraadbeheer centraliseren. Zowel webshop als uw financiële administratie zodat uw voorraadbeheer altijd actueel is
Toewijzen van een beperkt gedeelte van uw voorraad aan uw webwinkel
Aanbod synchroniseren met de voorraden van uw leverancier
Koppeling met uw order en administratiesysteem
Om uw producten snel en overzichtelijk aan uw klanten aan te bieden, vormt e-commerce (voor zowel B2B als B2C) vaak de meest duurzame en kosteneffectieve oplossing. Het koppelen van o.a. het Infor pakket is daarbij van vitaal belang. Zeker als het gaat om het tonen van uw catalogus, het bijhouden van voorraden en het doorvoeren van verkooporders of individuele prijsafspraken.
Meer weten? Of een demo aanvragen?